THANK YOU for this tremendous support!
The Hoedown rallies and unifies the St. Mary's community around a common cause: to raise money to support our mission to challenge our diverse student body, to grow morally, academically, and socially into passionate, confident, and Christ-centered leaders of the 21st century. Our Harvest Hoedown donations support our STREAM (Science, Technology, Religion, Engineering, Art, and Math) Education Programs!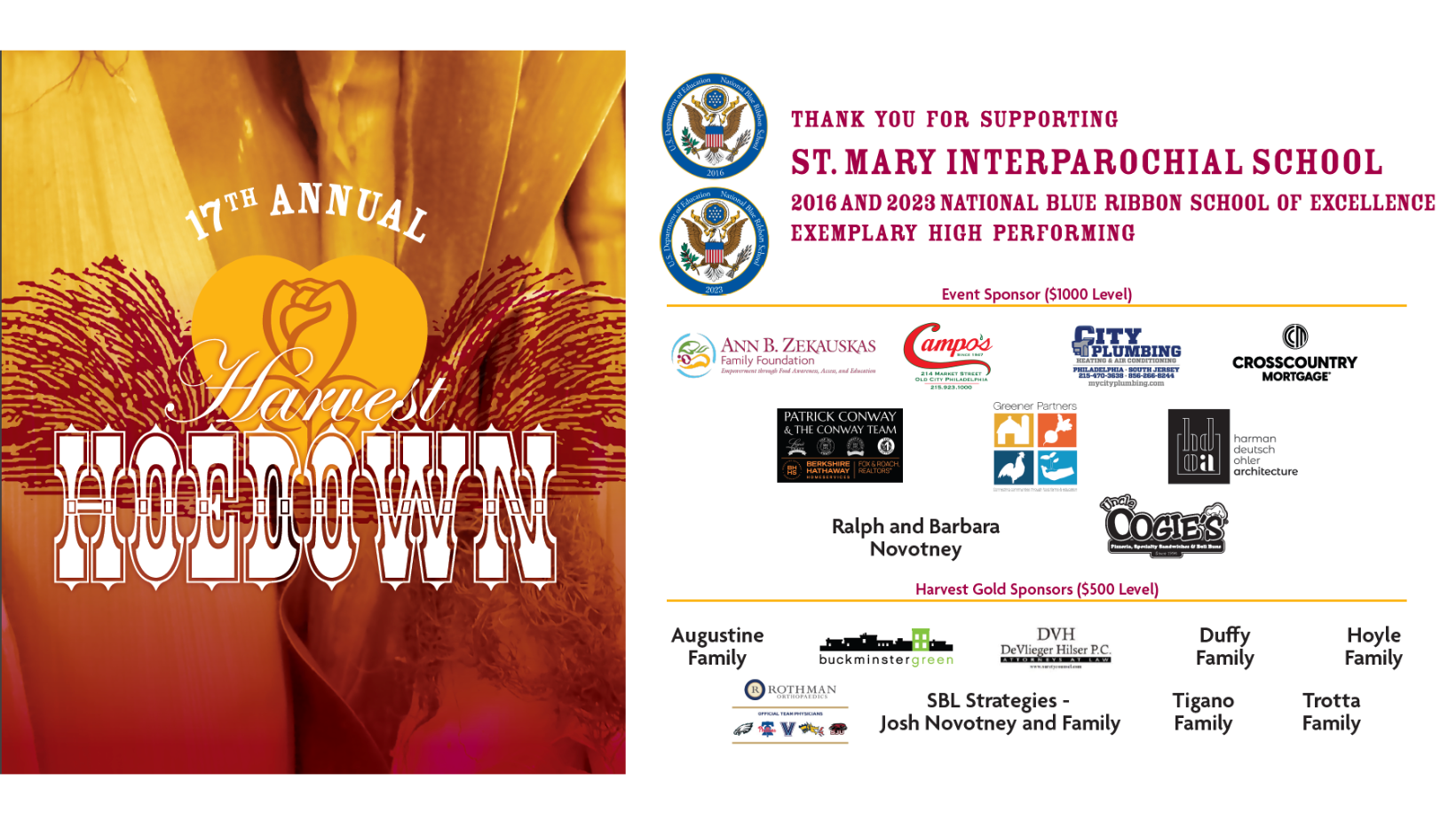 17TH ANNUAL HARVEST HOEDOWN
This year, we celebrate our Harvest Hoedown's 17th anniversary! This fair-like event was be held between 4th & 5th Streets on Locust Street on September 30, 2023 from 11:00 AM to 3:00 PM. 
FEATURING: Live Music, Delicious Food, Games, Crafts, Spooky Boo-tique, one-of-a-kind Cardboard Box Mad Scientist Lab, Moonbounce, Wonderful Prizes, Class Pumpkin Patch Contest, Royal Student Court, and other festive activities!
The 17th annual Harvest Hoedown is SOLD OUT! We thank our community for this tremendous support and we will see you on Saturday! 
Due to the capacity limits, and to ensure a safe event for all, we have closed admission for this event. 
Family Sponsor Package: $100, Includes 4 pre-paid admissions, Business, Family or Individual Line Listing in the Event Book. Family Package deadline is 9/22.
Pre-paid Admission: $12.50, includes 10 activity tickets 
Day of Event Admission: After September 22nd Admission to our Harvest Hoedown is $15.00. Purchase your admission tickets today by filling out the form below. Online ticket sales will close on Friday, September 29 at 2:00 PM.
Admission to the Hoedown Includes 10 Hoedown Tickets to be used for food and activities.
Raffle tickets and chances may be purchased the day of the event or online.
PLEASE NOTE: All raffle tickets are entered into a general raffle for all baskets and prizes. | 1 for $5.00 or 5 for $25.00
Students selling Hoedown raffle tickets will be entered for a chance to win the title of Hoedown King, Queen, Prince and Princess! Please list the student(s) you would like to designate your raffle ticket purchase to.
All of the wonderful donations we receive from families and local businesses are added to our raffle bundles! Traditional chance tickets are $5 each or 5 for $20. This year, you could win passes to local museums, gift cards to shops and restaurants, and so much more! Raffle booklets may be picked up at the school office or sent home with your child. Email hoedown@saintmarys.us with any questions.
A great way to support this event is by donating or asking a local business/organization for an item, gift certificate or service to be included in our amazing bundled raffle prizes.
Donations for Beverages 
Donations for Snacks and Baked Goods 
Come join the fun and volunteer!  
Each year, we rely on our wonderful alumni and parent volunteers to successfully pull-off our Annual Harvest Hoedown.
To be an alumni volunteer
To be a parent volunteer 
If you have any questions, please email hoedown@saintmarys.us.
Thank you in advance for volunteering! 
2023 Harvest Hoedown Steering Committee:
Jess Abbott
Christina Haciski
Susan Koger
Maren Novotney