SHINING OUR LIGHT ON ART, MUSIC AND LANGUAGE ENRICHMENT FOR OUR CHILDREN
The annual Walkathon rallies and unifies the Saint Mary community in support of Art, Music and Language Studies for the children of our school. Thanks to donations collected by our students and sponsorships made by our benefactors, we can continue to enrich our curriculum with vibrant programs in these essential subjects.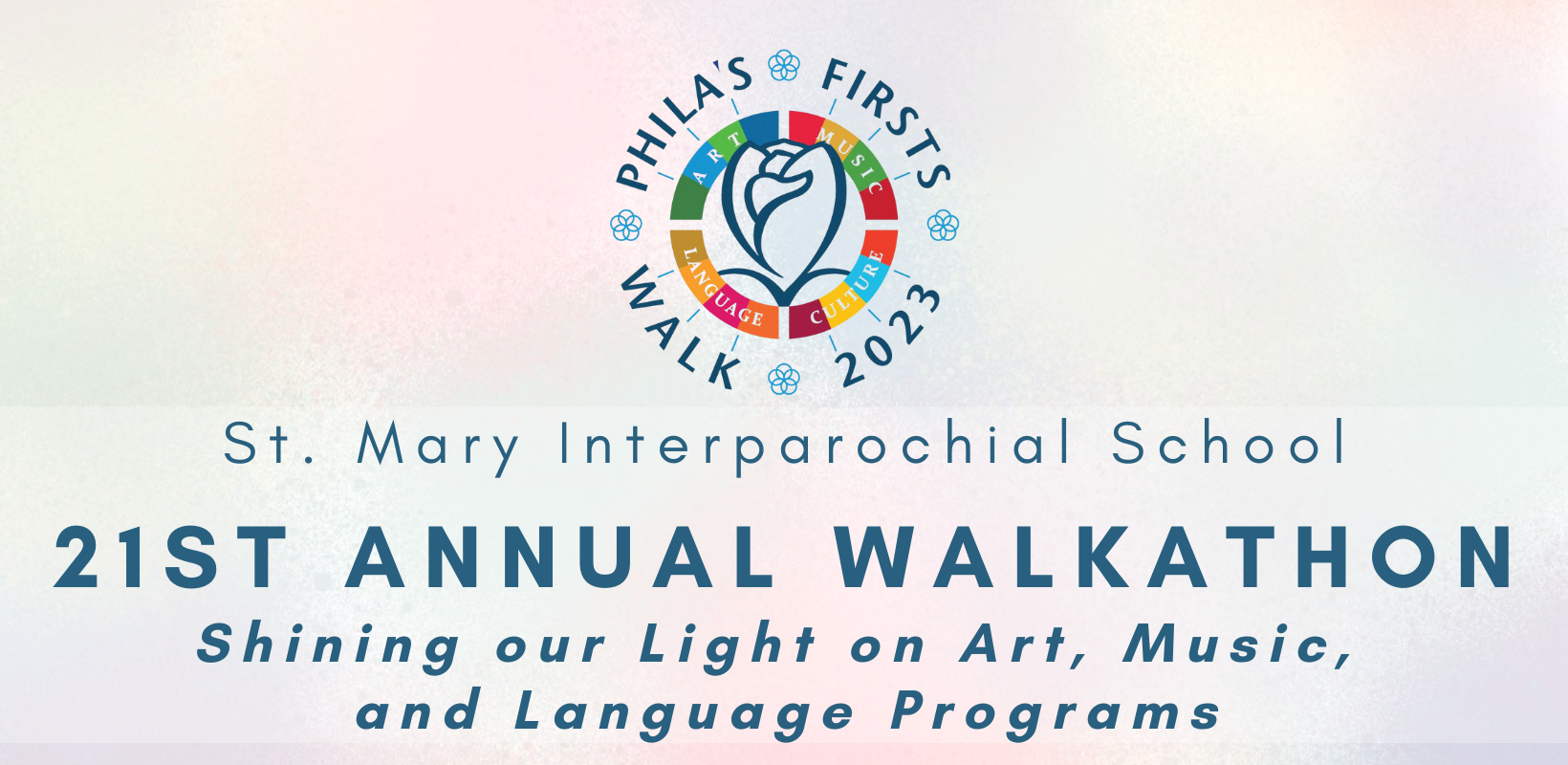 We are excited for the 21st annual Walkathon on May 19th! 
This annual fundraising campaign supports arts enrichment programs, and our goal this year is $45,000. The Walkathon this year will recognize the 17 Sustainable Development Goals (SDG) of the United Nations and will celebrate the unveiling of a commissioned  artwork at Saint Mary representing SDG17, Partnerships for the Goals, a collaboration with Global Philadelphia.  
There are many ways to support the Walkathon, and we have outlined them in the below FAQs. At least one donation must be allocated toward a student in order for them to participate in the Walkathon. All students who are eligible to participate in the Walkathon will receive an event shirt. Students who reach their fundraising goal of $150 or more will be part of the "Bend the Rules" program this spring. 
The 2023 Walkathon will support the foundational arts programs that support our students on their journeys to becoming passionate, confident, Christ-centered leaders of the 21st century. Students that have the benefit of an arts education have increased motivation, concentration, confidence, and teamwork. They score significantly better on standardized tests and have stronger skills in math and reading. Overall, arts education promotes creativity, social development, and self-worth. 
Please support and encourage our students throughout the next few months. Let them know why it is so important to fund the arts programs and motivate them to find ways to contribute. The campaign is designed so that all students have a chance to reach their $150 goal. 
If you have any questions e-mail the Walkathon co-chairs, Matthew and Susan Koger, Parents Class of 2025, at walkathon@saintmarys.us.  
To view our full Launch Letter from the Principal or to view our FAQ, please click the PDFs below.
We invite individuals and businesses to support the arts at Saint Mary by serving as a Walkathon sponsor or providing a donation. Sponsorships begin at $75, and each level includes an advertisement or personal message in the Walkathon event book. 
Online: To make a secure donation to support our students' Art, Music and Language Studies Programs, please click here, The deadline to sponsor the Walkathon is Friday, May 20.
Mail: Donations may be made payable to St. Mary Interparochial School and mailed to St. Mary Interparochial School, Fifth and Locust Streets, Philadelphia, PA, 19106
For questions about our Annual Walkathon, please email walkathon@saintmarys.us.